Most Popular Swinger Vacations and Swinger Resorts (North America)
Quick Jump: Desire Riviera Maya Resort | Desire Pearl Resort | Bliss Cruise | Temptation Resort Cancun | Temptation Cruise | Hedonism II
Keep reading to see all the popular adults-only and lifestyle friendly vacation spots (resorts and cruises) for couples and individuals who are sexually adventurous or hedonistic and see which is best for you!
Note: you don't HAVE to be a swinger or get involved in anything you don't want to or aren't comfortable with to go on these vacations and to these resorts.
Some guests are nudists, some are swinger couples, and some are sexually open individuals who enjoy being in a sexually charged, adults-only vacation spot.
Your adults-only vacation at any of these resorts or cruises is everything you make out of it and anything you want it to be. Think of these spots similar to what you'd find at your standard all-inclusive hotel, resort, or cruise, but with sexy extra accommodations and activities – all surrounded by like-minded adults like yourself!
Keep reading to find which of these most popular swinger vacations and swinger resorts is best for you to plan your sexy adventure!
This post may contain affiliate links, which means we may receive a commission if you make a purchase using these links, at no extra cost to you!
Click here to book and/or for more information!
Temptation Review (YouTube) | Temptation Review (Podcast): Part 1 & Part 2 | Temptation Cruise vs Bliss Cruise Podcast
February 11 – 16, 2023 (Saturday-Thursday)
Ship: Celebrity Summit
Itinerary:
Saturday, Feb 11 – Miami, Florida
Sunday, Feb 12 – At sea
Monday, Feb 13 – George Town, Grand Cayman
Tuesday, Feb 14 – At Sea
Wednesday, Feb 15 – Key West, Florida
Thursday, Feb 16 –  Miami Florida
Bliss Cruise YouTube Review | Bliss Cruise Review Podcast: Part 1 & Part 2 | Bliss Cruise vs Temptation Cruise Podcast
Experience Luxury Cruising designed for couples only. Bliss Cruise offers fun and exciting vacations for carefree adults looking to get away without the kids.
Bliss Cruise makes it easy for adventuresome couples to enjoy time at sea by offering couples-only, full-ship charters that tour exotic locations from Florida to the Eastern and Western Caribbean. All passengers are at least 21 years and older, so no need to worry about an under-aged crowd.
Bliss Cruise is organizing the best couples-only cruises which are filled with amazing adventures, great entertainment and sunny beaches. Set sail with hundreds of like-minded couples on a full-ship takeover on the most luxurious ships.
Book Reflection Nov 2022 Bliss Cruise (Bella & Jase from 4OURPLAY are attending this one!)
Dates: November 13 – 20, 2022
Ship: Celebrity Reflection
Book Summit April 2023 Bliss Cruise (Bella & Jase from 4OURPLAY are attending this one!)
Dates: April 17 – 22, 2023
Ship: Celebrity Summit
Book Equinox Nov 2023 Bliss Cruise (Bella & Jase from 4OURPLAY are attending this one!)
Dates: November 5 – 11, 2023
Ship: Celebrity Equinox
Book Mariner of the Seas April 2024
Dates: April 22 – 27, 2024
Ship: Royal Caribbean Mariner of the Seas
Book Oasis of the Seas Nov 2024 (Bella & Jase from 4OURPLAY are attending this one!)
Dates: November 10 – 17, 2024
Ship: Royal Caribbean Oasis of the Seas
Click here to book and/or for more information!
If you have been seeking an authentic, one-of-a-kind "Playground for Grown-Ups, 21+," then brace yourself for a whole new level of adults-only vacationing!
While playing at their adult-centric, all-inclusive resort with exclusive topless-optional areas, you will enjoy a sense of freedom you never knew existed, and not to mention an insanely sexy amount of fun! Temptation is known as "spring break for adults" and welcomes singles as well as couples.
Click here to book and/or for more information!
At Desire Riviera Maya, a couples only resort, you will feel the sensually charged energy housed within a luxurious all-inclusive program designed to captivate your senses with exclusive services and world-class amenities, taking you to the limits of satisfaction as you and your partner enjoy this unique conceptual resort experience, where each space has been designed to awaken your senses, providing the perfect backdrop for what lies ahead.
Their clothing-optional concept offers intimate, exclusive spaces to meet new couples. Provocative entertainment, stimulating theme nights, and an alluring playroom set the stage for you and your partner to bring your most desired fantasies to life. 
Click here to book and/or for more information!
With a secluded location along the shores of Puerto Morelos, within walking distance of the town's tourist area, Desire Pearl Resort, a Caribbean gem for couples, is the perfect place to indulge with your partner in new experiences. Leave inhibitions behind and discover passion of an all-new kind.
Their intimate village-style property features a luxurious all-inclusive program that provides guests with exceptionally mesmerizing services, amenities, and activities. Be seduced by their outstanding theme nights, pumping pool parties, and unique clothing-optional environment, inviting couples to add spice to their lives.
Which should I choose, Desire Riviera Maya or Desire Pearl?
Desire Pearl feels much more low-key, whereas Desire Riviera Maya is where the party's at. Desire Pearl is set up for couples or very small groups and Desire Riviera Maya is set up for people to meet and for groups to enjoy each other's company. You'll find a slightly older crowd at Desire Pearl and a more "happy go lucky" vibe at Desire Riviera Maya.
Desire Pearl in general feels more upscale and Desire Riviera Maya is more sociable. If you're looking to swing, Desire Riviera Maya wins, but if you're wanting something more relaxing and calm, Desire Pearl is for you.
Another idea is to go to Desire Riviera Maya first to party, then two days at Desire Pearl to "recover!"
Hedonism II's exotic, beachfront Caribbean resort is located on the far western tip of Jamaica nestled in a secluded bay at the edge of Negril's World Famous 7 Mile silky white sand beach. With sunsets beyond description, breathtaking views of the Caribbean Sea, a lush tropical playground providing a sensual and carefree atmosphere, Hedonism II encourages you to live your fantasies to the fullest.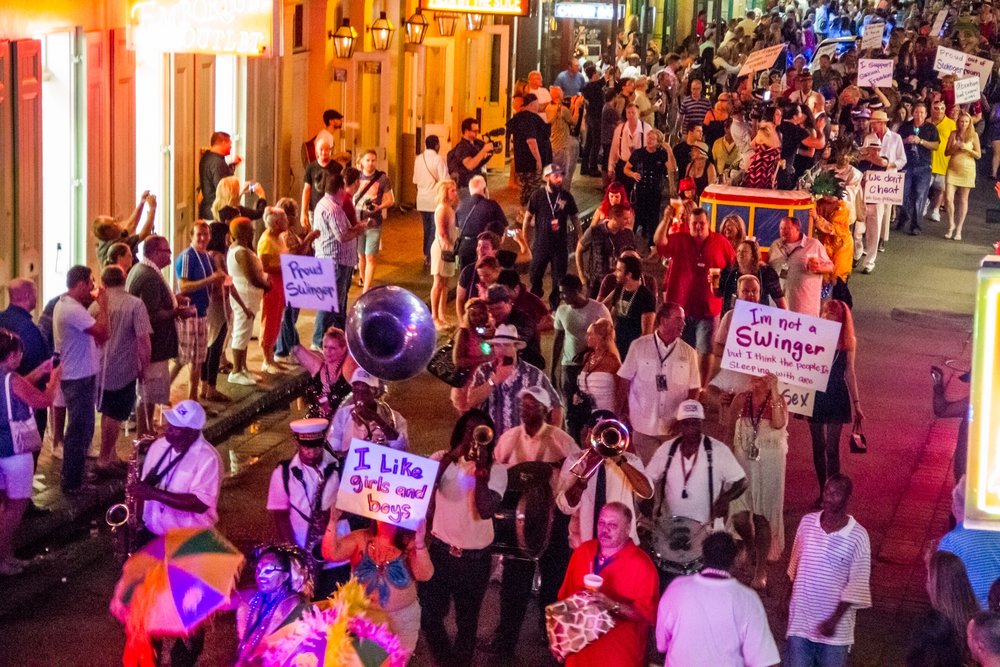 While not necessarily a swinger vacation, this annual weekend-long swinger takeover in New Orelans may feel like one! With a fully packed schedule, theme nights, play rooms, and more, this definitely deserved a spot on our list.